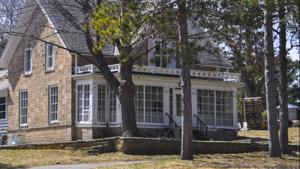 LeeAnne Bulman For Agri-View

NEWPORT, Wis. – Newport could be the most famous town in Wisconsin – if the plans didn't go awry from the greed of the people trying to invest in its potential prosperity.
The town started as Dell Creek, below "The Dells" on the Wisconsin River. After a narrow gorge and treacherous rapids, the river formed a natural bay. The spot became a resting place for lumbermen bringing rafts of logs downriver from the north lands. It was also the farthest point northern-bound boats could come from the Mississippi River.
Three farmers in 1841 began clearing land in the vicinity, and Frank Darrow built a store at the mouth of Dell Creek. It became a spot for outfitting supplies for the lumber camps, with local farmers selling their produce. Up the creek was a mill built for grinding wheat into flour.
The government was working on a canal in nearby Portage, Wisconsin. The project would connect the Wisconsin River to the Fox River, creating a waterway stretching from Lake Michigan to the Mississippi River.
The year 1849 brought Joseph Bailey and Charles Bowen to Dell Creek, where they purchased a squatter's claim and erected a house. Their first Christmas was spent hosting a dance for 12 couples who lived in the vicinity.
Dell Creek became a lively place to invest in real estate. With the lumber trade and the need for trains and boats to cross the state, its prospects of becoming a major city were great. By the next summer settlers were coming. But the land deeds were unreliable, causing citizens to form a "claim club" that used dubious methods to enforce deeds.
A town was platted and Dell Creek became Newport. Buildings went up on both sides of the Wisconsin River, with most of the people living on the west side.
Dr. GW Jenkins moved to town. The story told that the local tavern keeper told him if he stayed, the people would "get sick as often as they could handy." Jenkins did stay at a drug store. Other businesses were a brewery, several taverns and hotels, two stove stores, a bakery, a shoe store, a jewelry store and a ferry – along with three churches and a daily stagecoach.
There was also a newspaper called The Wisconsin Mirror, founded in 1856 by Alanson Holly. Holly was an unabashed member of the Republican Party because of its strong stance against slavery; His paper was a vehicle for his anti-slavery ideas. His first issue made the paper an instant success.
Scholarly pursuits by women became an integral part of Newport when Mt. Holyoke Seminary in Massachusetts opened a branch of their college in Newport. It was called Mary Lyon Seminary. The Congregational pastor at the time was the Rev. Cooley; His wife was hired as principal of the school.
But the church was not happy with Cooley and asked him to leave.
"His feelings were so deeply injured that he split up the pulpit so no one else could use it," said Mrs. Mary Markham Jenkins, an early settler of Newport. "It was a striking piece of furniture, completely covered with red plush, and a dead loss to use, but a good thing to get rid of."
After smashing the pulpit, the Cooleys left town; the school was discontinued.
An idea was floated about Newport to build a dam for powering grain and sawmills, with a bridge to make crossing the river easier – and provide a place for the railroad to cross. The Milwaukee and La Crosse Railroad was looking for a place to span the river so it could stretch its rails from Lake Michigan to the Mississippi River. Newport had it all.
Local landowners agreed that in exchange for the dam, they would sell their land at reduced prices or donate to the land. But greed reigned. Speculation increases rapidly from $ 1.25 per acre to $ 3 in land. A meeting with landowners was arranged, where they consented to adhere to their original agreement on reduced-value land. But they immediately started rising prices again. The landowners sold to speculators who were not part of the original agreement and therefore would not honor it.
First estimates for the dam were $ 15,000, which quickly doubled and reached as much as $ 100,000. Land prices increase to $ 1,000 an acre.
The dam-project manager looked up the river for a mill location, and found a cheaper and better spot. Soundings were taken in the middle of the night. When rumors revealed what was happening, the townspeople realized their plans for Newport were lost. The dam, railroad and bridge projects were moved to the new site. Newport became an overnight ghost town. The new town was called Kilbourn City, after the owner of the railroad. It was later changed to Wisconsin Dells.
The only building remaining of Newport is the Dawn Manor, built by Capt. Abraham Vanderpoel. He was a signer of Wisconsin's constitution and a lumberman who later served in the Civil War. The home is made of Potsdam sandstone with 3-foot-thick walls. The woodwork is white mahogany and white pine; It boasts brass screws and wooden pegs. The home's chandelier was a gift from the Russian Grand Duke.
After Vanderpoel the house was bought by SH Kerfoot, a lawyer. When he died his wife walked out, leaving everything behind including a table all set for a meal and closets full of clothes. It sat empty for 33 years until it was bought by WJ Newman, a 6-foot, 8-inch-tall businessman from Chicago. He dammed a spring-fed creek to create Lake Delton, a 600-acre lake. He built a golf course, an air strip and a hotel. But he never had to live there before losing everything in the Great Depression.
The house sits on a hill along Lake Delton; It can be seen by tourists that ride the "Ducks." It currently holds the art of Wisconsin artist George Raab.
This is an original article written for Agri-View, a Lee Enterprises agricultural publication based in Madison, Wisconsin. Visit AgriView.com for more information.
LeeAnne Bulman writes about agriculture overlooking the beautiful Danuser Valley on Wisconsin's west coast. When not writing she helps her husband grow their small grain and beef farm. Email genwim2@gmail.com to reach her.