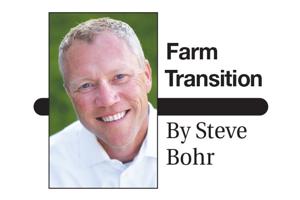 For as long as I can remember, my dad told the story about the divine sign giving him direction when he was young.
As the story goes, he saw in the sky a spring day and saw clouds making two clear, giant letters, a "P" and a "C." Dad knew it was some sort of calling and spent quite some time deciding what to make of the sign.
He hypothesized there were two possible explanations. The PC in the sky was calling him either Preach Christ or Plant Corn.
As the story goes, he just met my mom and decided it must have meant Plant Corn. Each spring, when the weather does not allow for us to plant Corn, it is easy to jest that the PC must have been preach Christ and Dad may have missed him.
At age 88, after 63 years of marriage, five children, 14 grandchildren, and a lifetime of Planting Corn, we can be sure that my father did not miss his calling.
The inspiration for this column came while I was reviewing an estate and land transfer plan completed five years ago. They had deferred their retirement and operating asset transition planning.
To my surprise, the client informed that they had already retired and sold all of their equipment at auction (2021 was their final crop). He was the most interested about income tax saving strategies and charitable giving.
When I mentioned to him that we would be preaching Christ again that day and not because of the weather, he chuckled and informed that his retirement call was to buy a motor home and travel the country doing volunteer mission work.
Unfortunately, the strategies that could have helped them most were not available as they had already sold auction on their equipment and turned most of their final year's crop into cash.
Here are some options that may help others who have not yet sold their equipment and last crop:
If you have children in your operation or are willing to transfer your non-related individual to your operation as a unit, a merger can be very beneficial from a tax perspective. Non-farm businesses do mergers all the time. As farmers, we do not consider this option as often as we should.
A gift of grain to children and grandchildren can be an outstanding way to transition grain assets while minimizing taxes. The child (or grandchild) would sell the grain at their tax bracket.
This strategy would save self-employment tax and the sale could be considered long-term capital gain (if the grain is 12 months old when the recipient sells it). The jackpot result is when the child or grandchild has taxable income under $ 40,000 (if single) or under $ 80,000 (if married). This is where the federal long-term capital gain rate is 0%.
We recently helped a client gift $ 10,000 of grain to each of the 20 grandchildren who were in the low bracket. This eliminates the federal tax and self-employment tax on $ 200,000 in his final year of farming, saving more than $ 100,000 in taxes.
A gift of grain to the charity can also be an exceptional option. If you sell grain and give cash to charity, odds are you may not be able to deduct the full amount as there are limits on charitable deductions on schedule A.
Another worthwhile strategy to consider is a gift to a charitable remainder trust. A qualified charitable trust pays no income tax.
The assets do not go to charity until the death of the income beneficiaries. Typically, a married couple would have a joint beneficiary for their lifetime and controls the assets in the trust.
The income beneficiary can either withdraw a percentage of the balance each year (which would fluctuate) or a set amount for their lifetime. There are specific rules to review with your attorney, accountant and other advisers who specialize in this type of planning.
In this particular case, the farmer had auctioned $ 1 million of equipment with no basis (100% depreciated so would be taxable as recapture of past depreciation). Even if they wanted to sell a contract on the equipment, all taxes are due in the year of sale.
In contrast, if they put $ 1 million of equipment into a charitable remainder trust and the trust sold the equipment, all $ 1 million will remain in the trust to be invested (without paying recapture tax on the sale).
The grantor can decide on the trustee and how the trust will invest its assets. In this case, they could withdraw $ 50,000 per year (5% of the trust balance) and could effectively stretch their taxable income over their lifetime. Any remaining balance in the charitable trust at the death of both spouses will go to the charities of their choice.
Sometimes children get upset that their parents decide to leave a significant gift to charity. Allowing the children to choose some or all of the charities that will benefit will minimize this issue.
This is a simple transfer of a highly taxed asset to a charity in exchange for a lifetime stream of payments. Churches and universities love the charitable gift annuity because they immediately have access to the gifted asset. This strategy is not for everyone, but it may fit your situation.
A donor-advised fund is a mutual fund established to benefit any qualified charity (or charities) in the future. Not all mutual fund companies offer a donor-advised fund. Those that do provide significant flexibility to make a deductible gift but also to defer commitment when and in which charities the account will be distributed.
This is popular if you would like to lump multiple-year gifts into one year for tax purposes but do not want the money to be distributed to the charity all at once.
Triggering significant taxes in the first year or two of retirement is the real issue for farmers who want to transition into a lifetime operating asset in cash. We hope they realize this before the asset converts to cash.
A farmer is practicing getting a lump sum of cash at the beginning of the year from deferred sales. They are conditioned to not panic themselves with a whole year to reduce income. The issue at retirement is that the options to reduce income halt.
Make sure to sit down with a comprehensive team of advisors including your attorney, accountant and any other financial adviser who specialize in this area (at least six months prior to selling the asset) to see which plan or combination of multiple plans will fit your situation. General Chat Chat Lounge
As the sun set on planting our first day for 2022, I was humbled to see a beautiful bank of clouds forming in the west with a clear "C" shaped in the clouds. I spent the next 20 minutes hoping to find a "P." There was no chance of missing my sign on this day.
Whether your sign is obvious or you need to consciously pay attention, my sincere hope is that you will have the opportunity to find your calling wherever in the clouds it may take you.
For 29 years, Steve Bohr has been a partner in the farm continuation firm of Farm Financial Strategies, Inc. For additional information on farm continuation issues or if you have any questions please contact Steve via email at Bohr@FarmEstate.com or by phone at 1-800-375-4180.
General Chat Chat Lounge