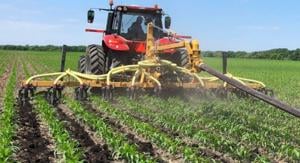 Joe Lauer University of Wisconsin

One of my earliest examples of growing corn was driving tractor while picking rocks on my uncle's farm. I was 6 years old and could barely push in the clutch. After starting in granny gear and pointing me down the field, my only job was to drive straight and stay off the corners. But I ran over lots of corn. I thought I had the death of numerous seedlings that day but my cousin said not to worry. I don't remember what happened when we reached the end of the field, but I do remember I was demoted quickly from the tractor driver and promoted to the rock picker.
Running over corn happens when side-dressing with a manure-hose application system. But little is known about what growth stage different corn hybrids can be dragged along with a manure hose, before plant population and grain yield are affected. In a paper published in the Agronomy Journal, field studies were conducted in 2019 and 2020 in Minnesota. Plots were dragged in both directions along the row with a manure hose from the first through sixth leaf-collar-growth stages – vegetative or V-growth stages V1 through V6 – and compared to a non-dragged control.
• Dragging corn at V1 to V3 did not cause significant damage to the crop.
• Dragging corn at V5 and V6, and sometimes V4, reducing yields and increasing grain moisture.
• Dragging at V4 reduced plant population and yield by 41 percent in one of four site-years.
• V5 significantly reduced yield after dragging, by 21 percent to 79 percent, and in most cases increased grain moisture.
The results suggest that when using a manure-drag-hose application system to side-dress corn, side-dressing should be completed before V4 to avoid damaging the crop.
According to the paper, livestock and crop producers are looking for alternatives to apply livestock manure beyond the typical fall and spring pre-plant timeframes. In the Midwestern United States, that is being driven by several factors.
• An increasing number of farms confined with livestock (Glibert, 2020; MacDonald, 2020).
• An increasing number of liquid-manure-collection systems, especially for hogs and dairy cattle (Heemstra, 2019)
• Increasingly unpredictable weather due to climate change (MN-DNR, 2019)
• Regulatory changes meant to reduce nitrogen losses to the environment
So sidedressing corn (Zea mays L.) with liquid manure during the growing season has gained interest. It provides another opportunity to apply manure, while applying that timeframe can increase nitrogen-use efficiency because the nutrients are applied just before rapid nutrient uptake by the crop (Bender et al., 2013). That reduces the risk of nitrate loss early in the spring from severe rain events and denitrification from waterlogged soils (Bakhsh et al., 2002; Luo et al., 2012; Randall & Vetsch, 2005). Several studies have successfully demonstrated that liquid manure can be sidedressed in corn when using different injection-application systems (Arnold, 2015; Arnold et al., 2018; Ball Coelho et al., 2005; Deen et al., 2008; Pfarr et al. ., 2020).
Liquid manure is typically applied via injection using two methods in the Midwestern United States – either a large tanker or a manure hose, called a dragline, dragged behind a tractor. The tanker must be refilled periodically while the dragline is connected to a large high-pressure pump at the barn or storage tank; It continuously applies manure until the application is complete.
Both systems have been evaluated for sidedressing corn. Tanker-applied liquid manure has shown promising results, but disadvantages have been reported by researchers.
• Risk of soil compaction from heavy tankers that may impede root development
• Issues with matching row lengths to minimize tank volume minimize field traffic
• Increased time to complete the application due to periodic refills (Arnold, 2015; Ball Coelho et al., 2007; Deen et al., 2008).
According to Arnold et al. (2018) Sidedressed corn using a dragline system between the first and third corn-leaf collar – vegetative or V growth stages V1 – V3 – and recorded a 9 percent yield advantage compared to commercial 28 percent urea ammonium nitrate, during a four-year study. in Ohio. The authors reported that using a dragline system to sidedress corn with manure reduced soil compaction, application time and costs compared to tanker application (Arnold et al., 2018).
According to Pfarr et al. (2020) Sidedressed corn with a dragline manure system in Minnesota and found grain yield was similar to sidedressed commercial fertilizers – anhydrous ammonia and urea ammonium nitrate – in one to two years. They report technical and weather-related issues with application in the second year, indicating that the practice still needs to be fine-tuned (Pfarr et al., 2020). Soil-moisture conditions during dragging were noted in both studies as possible sources of variability throughout the years, although neither study evaluated that aspect directly.
Among the successful demonstrations of sidedressing manure into corn with a dragline, concerns remain about dragging a manure hose through standing corn. For example would manure hose defoliate corn or pull plants out of the soil, and how does soil moisture affect that? Research on corn defoliation at various growth stages has shown that as long as the growing point is below the soil – which happens until corn is at the fifth leaf collar stage or V5 – corn yield should not be affected (Battaglia et al., 2019; Crookston & Hicks, 1978).
But most of the studies involved only simulate damage from clipping leaves from corn plants, whereas dragging a hose over corn may cause different types of damage to plants. Arnold (2019) dragged corn with a 15-centimeter-diameter manure hose at corn-growth stages V1 – V5 and found that plant population and grain yield were not reduced from control until V5. Their study did not evaluate differences across corn hybrids or if there are hybrid characteristics that could be beneficial for corn that dragged with a manure hose – that is, resistance to mid-season brittle snap or green snap.
Another potential concern is that many researchers report increased grain moisture when corn was dragged along with a hose during manure application (Arnold, 2015; Pfarr et al., 2020). But it was unclear if that was due to plant damage from the manure hose, the liquid-manure application itself or both. This is an important consideration because grain moisture increases drying costs for farmers.
The objective of this study was to evaluate the effect of dragging a manure hose over two corn hybrids at each growth stage between V1 and V6, on plant population, grain yield and grain moisture. This was compared with a control that was not dragged to better understand the impacts of this practice separately from the manure application.
Visit acsess.onlinelibrary.wiley.com/doi/10.1002/agj2.20797 to read the entire paper.
Joe Lauer is an expert on corn production, transgenic crops and cropping systems in the Midwest. He is a professor of agronomy at the University of Wisconsin-College of Agricultural and Life Sciences, and a member of the American Society of Agronomy and the Crop Science Society of America. Email jglauer@wisc.edu to reach him.