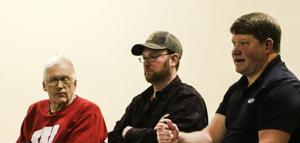 CASHTON, Wis. – Wisconsin had more than 32,000 dairy farms in 1991. In 30 years that number has plunged to about 6,500 farms. If something is not done soon the downward slope will continue to degrade, says Travis Klinkner of Klinkner Dairy near Genoa in Vernon County, Wisconsin.
Without a national program to prevent overproduction and price volatility, more than dairy farms would be lost, he said. Without dairy farms, small businesses in rural communities will continue to shrink – agriculture suppliers, parts dealers, welders and more.
"I need more neighbors who are farmers," he said.
Klinkner was among about 50 farmers who recently joined Cashton for one of three Dairy Revitalization Plan meetings. Other meetings were held in Abbotsford and Chippewa Falls, Wisconsin.
The meetings were organized by county Wisconsin Farm Bureau Federation chapters and the Wisconsin Farmers Union. Together the organizations are calling on dairy farmers to establish a national, mandatory program for managed growth.
The program is not a quota system such as the one in Canada. Instead it is a growth-management program that balances supply and demand, they said.
"No one wants a quota system (in the United States)," Joe Bragger said.
Bragger has a 400-cow dairy farm in Buffalo County, Wisconsin; He serves as District 4 Director for the Wisconsin Farm Bureau Federation.
Mark Stephenson is the Director of the University of Wisconsin-Center for Dairy Profitability, and an agricultural economist focused on dairy markets and policy. He explained to attendees how the Dairy Revitalization program, based on economic modeling, would work.
• Base plus allowable growth That means each dairy farm will start with a base level of milk production determined by historical production. A rate of allowable milk-production growth would be set based on market demand. All farmers would be free to expand as much as the allowable growth rate without paying a fee.
• Market-access fees That means any farmer who wanted to expand beyond the allowed growth rate could do so by paying a market-access fee for extra milk. Fees would be smaller when demand is stronger and greater when the market is flooded. When a farmer wants to expand production, he or she will need to pay for the additional share of the market in which all dairy producers become. Beginning farmers will be exempt from paying the market-access fee during a grace period to allow new farmers to enter the industry.
• Dividends Mean market-access fees paid by producers who would expand production would be pooled and distributed annually to all producers who stayed within their allowable growth. The dividend will serve as an incentive to produce the right amount of milk to meet demand.
The plan is based on an economic modeling study, "Proposed Alternative Growth Management Programs for the US Dairy Industry." It was conducted by Stephenson and Charles Nicholson, an associate professor in the Department of Agricultural and Applied Economics at UW-Madison.
If dairy producers nationwide agreed upon a growth-management program, it would need to be written into a farm bill – or verbiage would be needed to include such a statement.
Robert Nigh, a dairy farmer from Viroqua, Wisconsin, attended the meeting.
"The devil will be in the details," he said.
He'd like to see how such a plan would work if a next-generation family member wanted to join a family farm, he said, and the dairy herd would need to expand to generate more income.
"It would also take political (for it to happen)," he said.
He recalled years-ago discussions about the Dairy Market Stabilization Program, which was proposed before the debate regarding the 2014 farm bill. It was a supply-management program designed to enhance milk prices by levying a financial penalty on dairy farmers who did not reduce supply when the Margin Protection Program margins were less than a specified threshold that triggered program payments.
The American Farm Bureau Federation reviewed the historic Margin Protection Program margins. It found that the Dairy Market Stabilization Program would have been triggered in 2003, 2009, 2012 and 2013. But had it been included in the 2014 farm bill, it would have been triggered just once in 2016. That's when the Margin Protection Program margins were less Than $ 6 per hundredweight for two consecutive months.
Nigh said he was pushing California farmers into the program but that other dairy farmers didn't support it.
"You'd need a large number of farmers – representing at least two-thirds of the milk production – to support growth management," he said about the recent proposal.
Farmers at the meeting at Cashton noted that dairy cooperatives will need to support a national mandatory program.
Jack Herricks, a dairy farmer near Cashton, said during a panel discussion that it was good to at least be discussing the issue of growth management.
The fact there is more discussion by groups such as the Farm Bureau and the Farmers Union indicates interest, he said.
"(It) speaks to the fact that people are interested and that it is an ongoing process to see who can support a viable, effective program," he said.
Darin Von Ruden is a third-generation dairy farmer from Westby, Wisconsin, and vice-president of the Wisconsin Farmers Union. He said dairy-industry consolidation will continue if there is no mechanism to manage growth.
"There is excitement and worry, but having conversations (among dairy groups) will help move us forward," he said.
Klinkner said politicians recognize national dairy organizations as well as there is a problem with oversupply.
"If we develop a good-enough plan, there will be an opportunity for us to change, viable," he said.
Visit dairymarkets.org/gmp to watch a video featuring an explanation of growth-management programs, and for more information.
This is an original article written for Agri-View, a Lee Enterprises agricultural publication based in Madison, Wisconsin. Visit AgriView.com for more information.
Lynn Grooms writes about the diversity of agriculture, including the industry's newest ideas, research and technologies as a staff reporter for Agri-View based in Wisconsin.