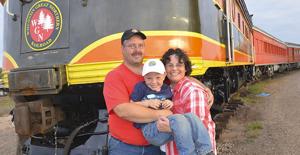 Jason Maloney For Agri-View

TREGO, Wis. – Railroads once bound Wisconsin together. Short lines brought news and goods to farms, then took produce and livestock to urban markets. Farm houses facing the railroads; Country trains stopped when people put a flag signal along the tracks. Trains were the way people traveled to the city and back.
Even tiny towns in far-northern Wisconsin had reliable passenger rail service. Passenger trains were a common sight everywhere.
But in 1971 the passenger service of much of the nation was discontinued. Rails were pulled up. Farms and many small towns were left without mass transit or freight service. Parts of the country that had been connected to the world became remote again. Some towns, farms and businesses withered on the vine and died. History moved on. Everybody knew small freight and passenger trains were a thing of the past – never to be seen again.
And everybody knows small railroads can't start from scratch. Or if they can, they can't stay in business.
But mother had a saying, "Can't never do anything!"
Something catches the eye along the east side US Highway 53 not far from Spooner. Railroad freight cars stand on the tracks as they do all across the nation. But next to them are tracks with other cars, rows of unusual cars – passenger cars, dining cars and cabooses. And there are unusual locomotives too. It's a treasure chest of history collecting along the highway.
In the unincorporated village of Trego the Wisconsin Great Northern Railroad is celebrating its 25th anniversary. Greg Vreeland and his family own and operate the railroad.
"My wife, Mardell, and I have been together for 30 years; We've been married for 25, "said Vreeland, a soft-spoken man. "We started the preparation work to build the railroad when we started going out together. First we built a railcar in Duluth, Minnesota. Envision A 1957 Chevy sitting in a farm field all cracked up and rusty – windows smashed, interior decrepit. That was the condition of the railcar. We rebuilt it into a first-class lounge-dining car. "
In 1996 the couple saw their chance to enter the railroad business.
"The Duluth Railroad Museum has just taken over the operation of the North Shore Scenic Railroad that runs from Duluth to Two Harbors (Minnesota)," he said. "They needed a dinner train (and) they contracted with us to do it. We bought a second railcar and rebuilt it over winter. In the spring of 1996 we started running a dinner train on the North Shore Scenic Railroad.
"At the end of the year we went looking for our own piece of track. A friend on the Douglas County Board suggested track owned by the state that was available. We figured out how to lease the track and started our own railroad in 1997. We bought a locomotive out of a scrapyard. We had the two dining cars. And away the adventure went.
"We do a lot of different things. On the south end of our line, near Spooner, we store freight cars that are generating extra (for other railroads) revenue. From Trego to Spring Brook we operate our passenger train.
"From Spring Brook to Hayward we operate a five-day-a-week commercial freight service. We serve the Louisiana Pacific Mill (and) Johnson Timber Products. We have our own transload rail yard at Spring Brook. We have a number of logging companies that transload wood from trucks to rail there.
"The freight operation was part of our long-term vision. Bigger railroads have eliminated a lot of small rail sidings over the years. That's why we built our transload yard; We knew the timber industry would still need a place to load timber. When the last mainline transload location closed we were waiting for the logging companies with open arms.
"We take great pride in the variety of experiences we offer. Different types of equipment help us offer different experiences. There are probably a hundred historic trains around the nation, many run by museums. Most have one train, three to five cars long. They offer different experiences, entertainment and meals, but always on the same few cars. We provide many different types of trains from different periods of history.
"We run a wine and cheese train in a 1950s double-decker car Sunday afternoons; It's a special car originally built for the Sante Fe Railroad. Later it was a Pacific Parlor car running Amtrak from Los Angeles to Seattle along the Pacific Ocean. It was for first-class sleeping-car passengers.
"We are best-known for our bed-and-breakfast train. My wife and I got into the passenger-rail business to build the bed-and-breakfast train. This will be our 10th season of operating it. We have restored historic sleeping cars and we are rebuilding interiors of our own cars in what we call 'Sleeper Deluxe.' Traditional passenger cars from the 1950s had bunk beds – two single beds, and a toilet and sink in a room. We have redesigned the interior of several cars with a queen-size bed in each suite. Each suite also has a tiled bathroom with toilet, sink and shower.
"Guests check in at about 5 o'clock and settle in to their room. Then they come to the lounge for a cocktail. Dinner in the dining car starts at 5:30. The train departs on a leisurely two-and-a-half-hour trip through the north woods while passengers are served a four-course dinner. When the train returns to the station guests are free to roam, enjoy the lounge car and play some games.
"In the evening they can enjoy the flames in our fireplace dance about under the stars on our outdoor patio. They go to bed when they wish. In the morning we have a continental breakfast in the dining car, and later a hot breakfast. Folks check out at 10 am "
Also offered are a dinner train, a family pizza train and a seasonal Santa train.
"We have a couple of unique features on our railroad," Vreeland said. "We travel through the north woods along the Namakagon River. We can stop at places where there is only nature – no houses, no roads, no traffic. We go through farm fields, across creeks and over trestles. "
His interest in his life's work, trains, goes way back.
"My mother likes to take a picture of me in diapers in my grandmother's backyard," he said. "I was watching a train go by; I was born to trains. I have been interested in them since childhood. In the railroad world there is a tendency for railroad families – grandfathers, fathers and sons who worked on railroads. I 'm not from a railroad family; I'm the first generation in my family. I brought it into my dad and now my son, Alexander, 12, who is through the railroad and through. "
The future of the Wisconsin Great Northern Railroad is high.
"We have a lot of projects," he said. "Our big project is the Mark Twain Zephyr. We saw it sitting in an old train boneyard about 10 years ago; I couldn't believe it still existed. It has been sitting out in bad condition for 60 years. It had no windows left, the interiors were gutted. (There was) no furniture, no floors, no ceilings. Only the shell of the Zephyr was left. Each time we visited that boneyard over a 10-year period we saw it sitting forlorn by a fence. It is an iconic piece of American history; Someone had to restore it.
"Finally we said, we can do it. We put together a plan and started on it. We intended to kick off our 25th season with it because Zephyr was called the "Silver Streak." A silver streak for our silver anniversary was a beautiful tie-in.
"Unfortunately with the pandemic's supply-chain issues we have problems getting parts. Stainless steel, steel, industrial parts and air-conditioning units are in short supply. The specific parts of the specific grades we need posed a challenge. Most of the car's interiors are complete – carpeting, furniture, everything is done.
"We're waiting on a new set of springs. They're leaf springs and everything about them is custom made for this 1935 vintage train. It took a year for the spring shop to even source the material. Our whole project is sitting on blocks waiting to get wheels back under it. In the meantime we are doing a lot of other projects – dining cars, sleeping cars and returning to our passenger business after the pandemic shutdowns. "
How a family comes to start, own and operate a short-line railroad that offers passenger and freight services has much to do with one's outlook on life.
"With the glass half-full or half-empty adage, did you know there is a third choice?" Vreeland said. "The glass was twice as big as it needed to be to do the job efficiently in the first place. If you used a glass half the size you would always have a full glass.
"I don't believe in the word 'can't.' You can tell me that something will cost money. You can tell I need something special that I don't have. You can tell me something requires special skills. But you can't tell me we can't do something. "
In northern Wisconsin a family who doesn't believe in "can't" runs a railroad that brings history alive through experiences on historic trains. At the same time they 're keeping part of the Wisconsin vibrant services provided by businesses that need it. The lure of the unique experiences they offer draws a lot of folks to Trego, but it has a can-do attitude of magnetic pull that brings them back for more.
Visit spoonertrainride.com for more information.
This is an original article written for Agri-View, a Lee Enterprises agricultural publication based in Madison, Wisconsin. Visit AgriView.com for more information.
Jason Maloney is an "elderly" farm boy from Marinette County, Wisconsin. He is a retired educator, a retired soldier and a lifelong Wisconsin resident. He lives on the shore of Lake Superior with his wife, Cindy Dillenschneider, and Red, a loyal Australian Shepherd.