Hello everybody,
After some time away due to moving, here is my updated list of available species.
I would like to know that I've moved to a place closest to the forest and its marvelous fruits

There are a few downsides: I depend on solar energy so I can be offline for some days, especially during the rainy season
Here is an important notice for buyers:
Rare tropical fruits enthousiasts know well that buying such seeds (recalcitrant for most) is not like buying a common item of consumption online. Tropical seeds need special cares and processes to be shipped a priori.
So after an order is placed, please do not expect to have the seeds shipped out with tracking number in 1 or 2 days.
Usually, shipping delay varies from 4 to 20 days.
I am not growing all the seeds i'm offering for sale, most fruits are picked in the wild and i have to manage fruits ripeness, distance and other things like weather. Also, by the past, I had to manage some eagers buyers that are also uncivil.
I will no longer accept orders from people that can't wait for a few days to reply to an email and send daily messages like "Hey, where are my seeds?????" without any minimum greeting. In that forum, we are all growing seeds, trees and patience too. A minimum of courtesy will be greatly appreciated too.
I ship worldwide, only by priority airmail tracking. Since the covid crisis, the tracking service is working erraticly, for some cases or periods it may take several days for the first updates.
I'm not responsible if packets are lost or confisced by destinatories customs.
If you think you need special way of shippment (CN22 customs declaration, invoice, etc …) please do not hesitate to ask, as I would do best for you to receive accepted seeds.
Unfortunately, I cannot provide any phyto certificate.
About seeds import permits, some rules ask for seeds to be shipped absolutely free from any material with it. But it is impossible for me to ship recalcitrant seeds without any moist medium: 90% of the seeds will arrive unviable without a good appearance. So, except for the special request, all recalcitrant seeds are packed with moist vermiculite or coco fiber to ensure that the seeds reach you healthy.
Generally, I try to ship more seeds than the quantity ordered, to compensate for a lower germination rate due to eventually an extended delivery time and also because I know it is always a pleasure to receive more than expected.
General Chat Chat Lounge
Thanx by advance for understanding.
Here are the seeds currently available:
Cupuassu – Theobroma grandiflorum (Malvaceae)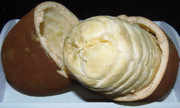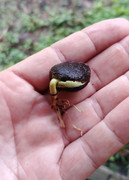 Small to medium tree, usually 6 to 8 meters tall.
One of the best Amazonian fruit. Highly prized on the local market.
Delicious and fast bearing (3 to 5 years).
Unsprouted seeds are very hard to ship and cannot survive mail transit.
So i send only sprouted seeds.
7 euros / sprouted seed. Available.
UPDATE : I'm now selling fresh seeds with surrounding pulp, packed in a vacuumed plastic bag.
With that way, the seeds remain longer and are still viable at receipt.
1 pack of 4 seeds in a vaccumed plastic bag = 18 euros. Available.
Chrysophyllum argenteum (Sapotaceae)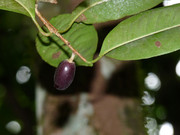 Small to medium tree. Usually 4 to 15 meters tall.
Nice ornamental value with foliage similar to Chrysophyllum caimito.
Bear 2-3 cm purple oval and single seeded fruits.
It has a good seed pulp / ratio. Skin is eaten too.
Taste like Rambutan, delicious. The flesh doesn't adhere to the seed.
Underestimated specie with great potential.
3 euros / seed. Available.
Peach Palm – Bactris gasipaes (Arecaceae)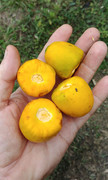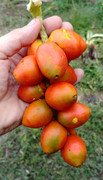 2 Varieties available. Both are higly prized on local markets.
Top Yellow: big size and great taste: 3 euros / seed. Available.
Oily Red: medium sized, pulp is more oily than regular peach palm: 2,5 euros / seed. Available.
Kavunma – Passiflora nitida (Passifloraceae)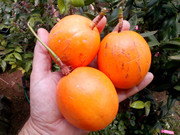 Simply delightful.
1 pack of 10 seeds = 12 euros. Available.
Kamewyi – Bactris major (Arecaceae)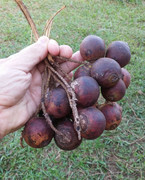 Small multi-stemmed spiny palm, usually no more than 3-4 meters tall.
This palm produces several clusters of 3 cm fruits in diameter.
Fruits turn purple when ripe. They are sweet and juicy. Taste slightly like a slightly sour applesauce.
3 euros / seed. Available.
Top Ubaia – Eugenia patrisii (Myrtaceae)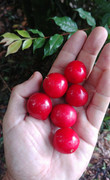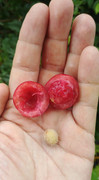 Superior variety that produces big, tasty and juicy bright red berries.
Only sprouted seeds available: 7 euros / sprouted seeds. Available.
Puneh-retni – Eugenia latifolia (Myrtaceae)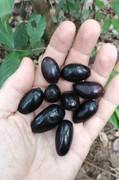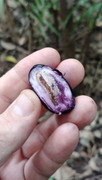 Small tree, up to 3 or 4 meters tall.
Growing in damp area.
Start to fruit when less than 1 meter tall.
Slightly overripe fruits taste great. Highly prized by natives.
Good amount of pulp with edible thin skin.
Rare and unknown outside its natural range.
Only sprouted seeds available: 9 euros / sprouted seeds. Available.
Pradosia ptychandra – Kimboto (Sapotaceae)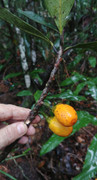 Tree up to 20 meters tall.
Fruits are intensively eaten by monkeys. It is hard to get whole fruits.
Few but super sweet pulp around the seed (1 seed / fruit).
3 euros / seed. Available.
Passiflora cerasina (Passifloraceae)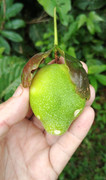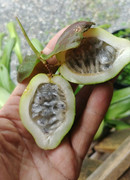 Recently discovered specie. Endemic to the Guianas.
Fruits are delightful, a true delicacy similar in taste to a cross between Passiflora nitida and Passiflora laurifolia.
Ultra rare, collector with great commercial crop potential.
Few seeds available.
6 euros / seed. Limited quantity
Passiflora vespertilio (Passifloraceae)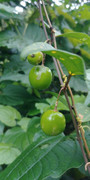 1 "Fruits, turn dark purple or black when ripe.
Pulp is sweet / acidic and aromatic. Tiny seeds.
This plant is used for medicinal purposes by natives.
1.50 euros / seed. Limited quantity
Top Rollinia deliciosa (Annonaceae)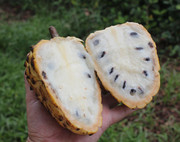 One of my favorite Biriba variety.
Fruits can weigh up to 1.5kg, low seeds count, sweet and creamy texture.
1 pack of 10 seeds = 10 euros Available.
Green Rollinia deliciosa (Annonaceae)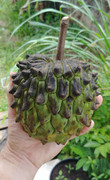 The Green Biriba produces medium sized fruits (up to 1kg).
The skin of the fruit stays green longer than other biriba with very few yellow hints when ripe.
Pulp is firmer, a bit grainy, very sweet.
This variety is a commercial cultivar locally.
1 pack of 10 seeds = 12 euros Limited quantity
Hybrid Rambutan (Sapindaceae)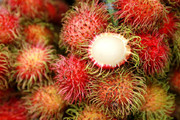 Seeds come from a hybrid variety between red and yellow rambutan
Fruits are 5 cm long, pulp do not adhere to the seed.
Sweet and juicy, excellent quality.
Due to difficulty to ship unsprouted seeds, i'm selling only sprouted seeds.
Rambutan is dioecious, it needs male and female plants in order to fruit.
1 pack of 3 sprouted seeds = 18 euros Limited quantity
Please send request to email: