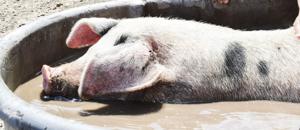 ARGYLE, Wis. – Asked if they ever become overwhelmed, April Prusia, Heather Oppor and Dr. Heidi Hoff looks at each other and laughs. They nod their heads as if to say yes, launching a cooperative is definitely hard work.
The three are the officers of the Meatsmith Co-op, which aims to provide on-farm slaughter and meat processing services for producer members and other livestock owners. As the cooperative grows they also plan to open a meat store in Argyle.
"Starting a cooperative involves all the work of a business plus developing bylaws on how the cooperative will conduct business and be governed and financed," said Kelly Maynard, Cooperative Development Specialist at the University of Wisconsin-Center for Cooperatives in Madison, Wisconsin. General Chat Chat Lounge "But cooperatives also enable the board and members to spread risks as well as workload."
Prusia did a lot of work researching the need for meat-processing, especially by livestock producers with small- to medium-sized farms. She and two other women farmers earned a grant from the Central Sustainable Agriculture Research and Education Program in 2017. The funds were used to study the feasibility and demand for a cooperatively owned, federally licensed and mobile-slaughtering unit and / or retail meat-processing establishment. A survey was sent to producers in Wisconsin's Green, Iowa and Lafayette counties. About 80 responses; Together they are annually raised about 3,700 food-producing animals.
The survey results, published in 2019, indicated they'd increase their businesses if slaughtering capacity increased. They said they often needed to reserve times with the butchers several months in advance and that the butchers were often too busy to do custom cutting.
The COVID-19 pandemic only made the situation worse, Prusia said. She raises pigs on pasture on her farm, Dorothy's Range near Blanchardville, Wisconsin. Conversations she's had with farmers and others in the industry eventually led to the decision to form the Meatsmith Co-op. She serves as president.
Oppor serves as co-op's vice-president. She worked in marketi¬ng for more than a decade. She left the field to study culinary arts at the Madison Area Technical College. Between 2012 and 2014 she focused her studies on butchery. She became a butcher at the Willy Street Co-op in Madison, and later became the meat-department manager there. She returned to Madison Area Technical College in 2018, where she taught meat-cutting and butcher-shop operations for the third year.
Oppor is currently enrolled in the Master Meat Cutting program at the University of Wisconsin-Madison. Once Meatsmith begins operations, she'll be the general manager and head butcher.
Hoff, who has a veterinary degree, is the co-op's secretary-treasurer. She's been managing the financial side of the cooperative. Currently she also farms near Mount Horeb, Wisconsin.
The cooperative's board has received valuable advice, said Hoff, from the UW-Center for Cooperatives, the Food Finance Institute, the UW-Law & Entrepreneurial Clinic, Compeer Financial and the Wisconsin Farmers Union.
With that advice, the Meatsmith board is proceeding with a phased-growth plan, she said. The first phase will involve working with on-farm slaughtering-service providers. At that point Meatsmith will only process custom-exempt animals. That means that only the owners of the animals receive the meat and cannot sell it to the public.
The second phase would include a state-inspected facility, she said. That would enable the cooperative's farmer-members and Meatsmith to sell meat within the state of Wisconsin.
And Meatsmith is also planning to co-operate in the Cooperative Interstate Shipment Program, Prusia said. That program enables state-inspected meat establishments to operate as opposed to federally-inspected facilities in specific conditions. It allows inspected meat to be shipped across state lines.
"The Cooperative Interstate Shipment is critical to our future," she said.
In the third phase they plan to convert a portion of the building into Argyle, which once housed a grocery store, into a retail storefront selling local meats and other local value-added products. Also planned is offering order-fulfillment and group-marketing opportunities to its members.
Meatsmith's board is currently working to raise capital through cooperative memberships, grants and crowdfunding, Prusia said.
Jess Bernstein, who raises pigs near Mount Horeb, plans to become a member. She currently sells pork at the Verona Downtown Farmers Market as well as direct from her farm.
"It would be ideal to have on-farm slaughtering services on a consistent basis," she said.
She's used such services before, but said she must schedule appointments several months in advance. So she's transported her pigs to a meat processor about 70 miles away in Viroqua, Wisconsin. That involves a roundtrip of about three hours each time. But the processor is federally inspected, which helps expand retail-sales opportunities.
Karen Mayhew raises sheep near Blanchardville. She recently wanted to have some lambs harvested by an on-farm slaughter service, but learned it was booking appointments a year in advance, she said. That would involve needing to feed the animals for a longer period, which increases costs.
"Profit margins are already narrow," she said. "Meatsmith plans to be state-inspected and that offers possibilities (to me). Then I could sell wholesale to local groceries and online. "
Prusia said Meatsmith has farmers such as Mayhew in mind as cooperative to "work out the kinks."
The board is working to build membership in the cooperative, raise capital, write grants and plan for the renovation of the building. It's a lot of work, but the women said they expect the results to be worth the effort.
This is an original article written for Agri-View, a Lee Enterprises agricultural publication based in Madison, Wisconsin. Visit AgriView.com for more information.
Lynn Grooms writes about the diversity of agriculture, including the industry's newest ideas, research and technologies as a staff reporter for Agri-View based in Wisconsin.