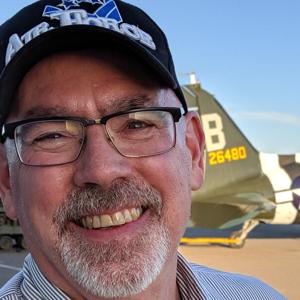 By Farm & Ranch Guide staff

After 41 years as the longest-serving sales rep in Farm & Ranch Guide's 42-year history, Ted Bolton retired from the publication in late April.
The Northern North Dakota / Canada Sales Representative has helped bring decades of success to its clients through top-notch customer service and advertising campaigns. In addition, the farmers enjoyed visiting him at the farm shows, and his co-workers appreciated his positive and friendly attitude.
"I greatly appreciate the years of hard work and energy that Ted has brought to the team. He was a great salesperson, but a good friend and someone I will always appreciate, "said Matt Meyers, group publisher for Lee Agri-Media.
Ted is always quick to point out that his wife, Margie Bolton, sold advertising for the Farm & Ranch Guide before he did.
David and Ruth Borlaug founded the publication in 1980, and Margie was hired while Ted was serving with the US Air Force in Minot. When he was honorably discharged as a sergeant, Ted was hired by David, too. Margie continued to work for the publication until the Bolton's first child was born in 1984.
Spending a minimum of two nights on the road every two weeks – or three nights if he went to Canada – Ted traveled 60,000-70,000 miles annually for the first decade or two at the paper. Putting together full-page implementing ads was a time-consuming task.
The total size of the farm publication was directly tied to the amount of paid advertising, and the Farm & Ranch Guide grew to hundreds of pages. The large papers were due in part to Ted's ability to create advertisements that brought farmers and ranchers into agribusinesses.
"When we started, there was no such thing as a cell phone or a fax machine," he said. "There were computers, but no internet. There was no such thing as a one-hour photo.
"As these technologies came along, they revolutionized what we were doing, as did the Internet, though the internet was a downer for our industry," he continued, "but I often laughed lately that if the internet went down, we couldn't 't put out a paper anymore. "
Through the 1980s and 1990s, Ted helped his customers thrive.
"In those days, there were many independent implementing dealers, and almost every little town had an International Harvester dealer, John Deere dealer, or Case IH dealer. Even the tiny burg of Ryder, ND, had a dealership called Ted's Garage, and everyone wanted to be in the big, new regional farm paper, "Ted said.
"In Harvey, it took several hours just to see all the customers in that little town. There was Bentz Implement, an IHC dealer, Keller Implement representing John Deere, plus Kuhn Manufacturing and Faul Manufacturing. Add to that the car dealers, lumberyard, auctioneers – we stopped in Harvey for an entire day every two weeks, "he added.
Mark Conlon, former editor and now marketing columnist, noted that Ted had already worked on a farm and ranch guide before Mark joined the staff.
"What I remember is that Ted was always professional with his customers – always looking out for his best interests – as well as his fellow sales reps and office staff," said Mark. "He was the face of the paper in his language and always represented the paper in a positive way."
Ted even took time for editorial staff who worked away from the Bismarck offices to ask about each person's interests when company-wide meetings were held.
"Ted made sure everyone felt special, and he was passionate about agriculture," said Sue Roesler, longtime reporter for the Farm & Ranch Guide.
In recent decades, Ted and many of its customers have adapted to the digital age and new technology, as well as the consolidation of agribusiness.
The Farm & Ranch Guide experienced the growth of digital publishing, as well as the introduction of several sister publications throughout the Midwest and into the Great Plains through Lee Agri-Media.
Whatever was asked of sales representatives at Lee Agri-Media, Ted stripped to complete the objective as an important member of the advertising team.
"I appreciate Ted's sincerity, his team spirit, and his selfless help," said Mardell Weisenburger, northeast North Dakota and western Minnesota market representative. "He is always ready to help if there are any questions."
Farm & Ranch Guide's Eastern Region Marketing Rep. Roxanne Meyer added that Ted has "always shown what true dedication and work ethic stands for."
"He's been doing a testament to what's right for the customer and a great co-worker with his knowledge and network," Roxanne said. "He has helped us all adapt and grow in the ever-changing ag industry and will be sorely missed."
To Ted's many loyal customers through the years: everyone at Farm & Ranch Guide sends a heartfelt thank you for your business. Ted will be difficult to replace, but we will strive to do our best to serve your advertising needs today and in the future.
Ted and Margie have three children: daughter Sarah, who lives in Minot; daughter Beka, who owns and operates a bourbon distillery in Kentucky with her husband, Royce Neeley, and her family; and son Eddie, who is a project manager for a large construction company headquartered in Kansas City. He is currently building a new hospital in Minot.
Margie and Ted are the primary caregivers for Margie's 99-year-old WWII beach-storming father. He served with Gen. Patton's 3rd Army from D-Day until the end of the war. Ted's mother lives in Florida to the fullest.
Margie's Art Glass Studio is a successful Minot business where people with a passion for art gather, learn, and create beautiful things, and drink coffee.
In retirement, Ted will now be very involved with his two weekly newspapers, and his business, Bolton Advertising Group. He purchased the Northern Sentry, the Minot Air Force Base newspaper in 2018, as well as the Velva Area Voice.
"My primary focus will be on Northern Sentry," he said. "I loved my time in the Air Force and my excellent career in the newspaper business. Now I get to combine both of my passions in my golden years. "
Everyone at the Farm & Ranch Guide hopes that Ted and Margie's next chapter continues their happiness through the years ahead!
Former market representative Jim Murphy says it's best for all of us: "So many good examples, Ted. However, so many more to come. Good luck now, and in the future. "
General Chat Chat Lounge