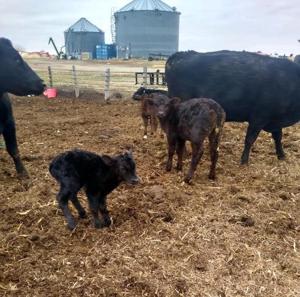 By Carla Post of Pauline, Neb.

As spring progresses, Post Farms continues to prepare for planting. The biggest barrier has been cool weather, as last week saw temperatures dip down into the 20s. We've found that trying to plant ahead of warm weather is generally not productive.
Despite the chilly, windy weather, the robins have arrived in full force. The other day I observed a good half dozen of them taking their bird baths in the outdoor cat's water dish. Certainly, warmer temps can't be far behind.
Watching our local TV station recap two days of high winds, our area was thankfully on the "lower" end of the breeze, with just 62 mph winds! However, Thursday saw dust storm warnings and reports of wildfires in the region. We experienced a power outage from about 8 pm to midnight.
Because our farm is located "at the end of the line," so to speak, it was somehow missed, and we went longer than the rest of the neighborhood. However, a second call to the power company resulted in prompt action, and I'm so grateful to those workers who came out at midnight to get things up and running again, as our cattle operation definitely depends on electricity. A couple nights later, I woke up to such a strong smell of smoke in the atmosphere that I walked outside to make sure none of my buildings were on fire.
On the cattle side of things, we're keeping an eye on a premature newborn. Although less than half the size of a full-term calf, the little guy seems to be holding his own, despite the fact that he barely stands high enough to take milk from his mother. The protective mama cow refuses to allow the most well-intentioned humans to get close enough to help, so he's pretty much on his own in the world, but so far, so good.
Last week, my cousins ​​and I met a market analyst to inventory and establish values ​​for my dad's farm machinery. Nearly all of it has been out of commission for well over a decade. While there are those who disdain old machinery in resting and in the trees, I don't mind having my dad's things around me. It is an odd feeling, indeed, to put a price tag on things you hold dear, and, in a sense, to have a farming legacy reduced to a dollar sign.
Our family was always solidly in the realm of the Red – International or Case – where tractors were concerned. While I was only 7 when my grandfather passed, I clearly remember doing him field work with the International 504 and 560. To this day, I could easily pinpoint his body frame in the 1950s black-and-white snapshots that my dad took of ours. farming operation.
My cousin relates that in old times our grandfather, who'd farmed with horses in middle age, disliked my uncle's Farmall M, believing it too big. Soon afterward, Grandpa bought himself an H, which was more to his liking.
In his time, Grandpa got to experience neighborhood farming with the old steam engine machinery. So massive was the requirement for water that after two stock tanks were emptied, farmers had to resort to pumping from the river to get enough water to power the great steam engine of yesteryear. Come lunch time, the women of one of the area farm utilized tree branches swat flies away from the harvest dinner table. The Neighbors of ours had an old steam engine at their farmstead in the 1960s. I recall a visit as a young child where my sisters and I had the best time climbing all over and playing on that vintage piece of machinery.
My dad told me that one of the first tractors our family acquired was with steel wheels. Of course, it would easily mire if the ground was at least bit soft. Eventually, my grandfather decided he could sit on the rubber just as well as he could steel. Using a trailer and an old Model A, they towed it some 15 miles to Fairfield, a large, modern-day implement business, and had the tires changed to rubber.
Coming home in those dirt-road days, it rained so heavy that they stopped at Grandpa's hired man, where they left off the tractor, trailer and Model A. In pouring rain, they made the final 2-mile trek home. One of Grandpa's horses that had been stabled with the hired man so that he'd have a way to get to work.
The last two tractor purchases my dad made were in 1976 and 1980. One night when my mom went to a church meeting and my sister and I sat at the kitchen table doing homework, my dad confided to us that he was thinking of buying another. New tractor, but can't decide between two possible options. Of course, we enthusiastically urged him to go with the biggest and most expensive, which turned out to be a 4440 John Deere, the green being the first for our farm.
While I never said anything to my dad and certainly had no definable reason for it, after so many decades of red, I just could never quite reconcile myself to the green. In spite of my misgivings, the green turned out to be one of the many wise farming decisions my dad made over the years.
Growing up on the farm, once my sisters and I reached the age of 10, my dad drafted us for a drive tractor laying out an irrigation pipe. This was much preferable to the heaving pipe, and by the time I was in high school, I was fairly comfortable driving the 504 and 560 Internationals.
After leaving home for college, the opportunities for tractor driving were rare, since my dad didn't think women should be too heavily involved in farm labor. However, about seven years ago, after I moved back to the farm, my dad one day directed me to the cab of the John Deere. It was hooked to a tow chain attached to an old pickup, and I was to tow the pickup in an attempt to give it a pull-start. Gentle, smooth starts at just the right speed – not too fast and not too slow – were the orders for the day.
"Why doesn't this seem like a good idea?" I mused to myself as I dutifully climbed into the green tractor cab. Mentally, I was ticking off the fact that I haven't driven a tractor for over 30 years, and had never been behind the wheel of the Deere. I was not sorry when the truck came twice unhooked from the tow chain. Eventually, however, we got going, and I managed to make a couple of circles around the barnyard in my inaugural run with the Deere. I don't recall if we got the pickup running – only that, thankfully, I didn't manage to crash-land the tractor anywhere.
I look back now at that incident, and it makes me smile. Given my misgivings and my questionable driving skills, the John Deere continues to log valuable service to our cattle operation. And, anytime I see it tooling down the road, I know that a piece of my dad is still with us.
General Chat Chat Lounge